When decorating garden, friends will have doubt how to install WPC floor, Here are the Methods and precautions for installation of WPC floor:
First, the installation method of WPC floor
1, from the professional point of view of device floor, Before the installation, it must be adhered to the WPC floor boring, flat, clean. so as to very good to ensure that the follow-up device work smoothly.
2, preparing the installation tools and accessories: Electric drill, the carpenter's tools,labor gloves and general carpenter things, labor gloves, stainless steel screws, etc., when fixing a floor and keel, it is necessary to use electric drill to drill holes, reload screw to fix, prevent to damage WPC floor.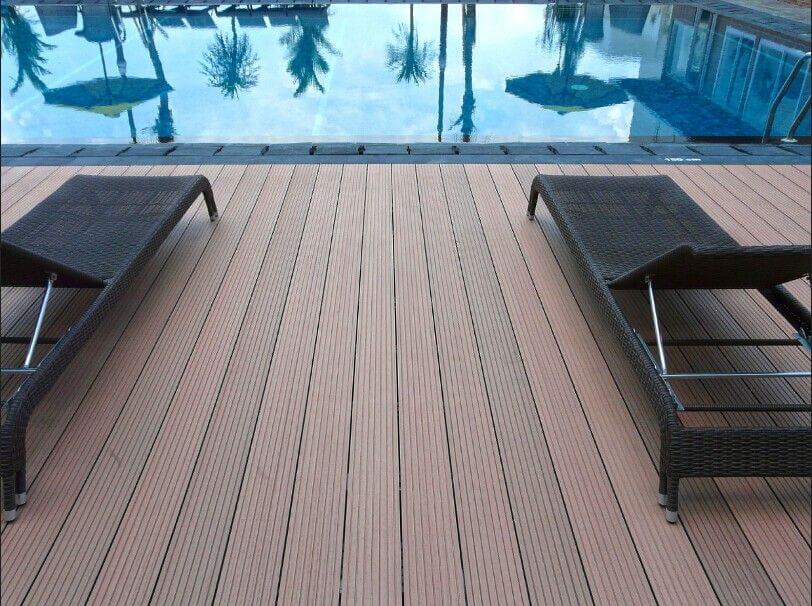 Second: plastic floor device process
1, Fixing WPC keel: Pls evenly place the WPC keel on the cement floor, it is recommended that the distance between each keel is 30cm.Use the electric drill to drill the holes on the keel, the diameter of the hole should not be less than the diameter of the screw, then screwing screw into the hole, the keel fixed on the cement floor, screw head should be screwed into the keel, do not expose outside, otherwise it may lead to uneven floor layout.
2.Fixing the first floor: there are female and male chute on both sides of each WPC floor.When installing the first floor, use the carpenter's tools to saw off or grind off the male slots on the outside of the first floor, and then use the electric drill to drill the holes on the surface of the floor to screw it and fix it on the keel.
3.Fixing the 2nd floor: the male chute of the 2nd model wood floor gets stuck the female chute of the first floor, and then drilling a hole on the exterior side of the male chute of the second floor,turning a screw into the keel, screw distance can be controlled by construction personnel, need not too close, only ensure firm.the rest of the WPC flooring device is the same as that of the second flooring device.